15Lt 4gal NEW Big power Agricultural Li-ion Cell 21V Electric Backpack Sprayer
15Lt 4gal NEW Big power Agricultural Li-ion Cell 21V Electric Backpack Sprayer
SeeSa

Zhejiang, China (Mainland)

25-35 Days

20*40ft container /daily
Product :
1. 21V replaceable Lithium battery pack, long working hours and convenient
2. Double-color back cushions for breathable comfort.
3. Using intelligent pressure switch type diaphragm pump, it has long service life and high efficiency.
4. Water-proof cover anti-off design, the spray bar can be fixed on the handle, and the handling is more convenient.
5. Equipped with a variety of nozzles for users to use.

Factory :
1) Build in 1978 , have more than 40 year product experience
2) CE/GS /CCC/BSCI/ISO9001/ISO14001 Certificate
3) 1300 well trained workers
4) 80000㎡ manage and orderly workshop
5) Have a R&D Department ,Good ability to develop new products
6) 24 Hours after sales service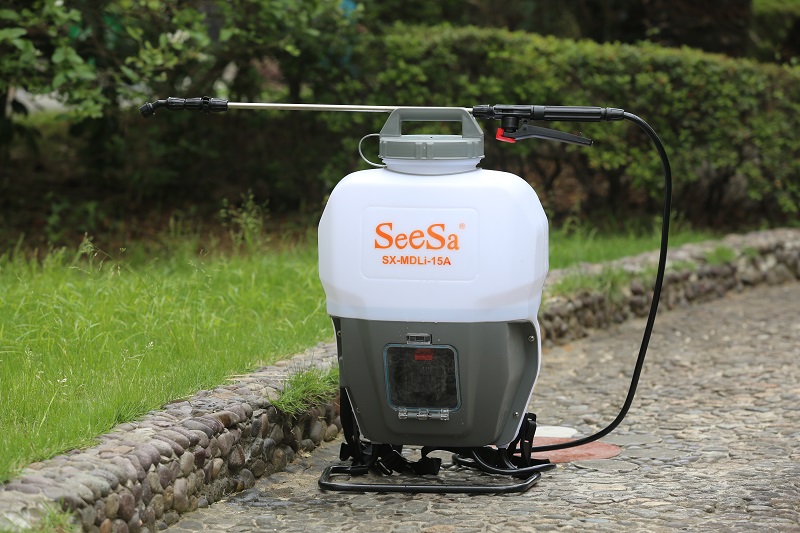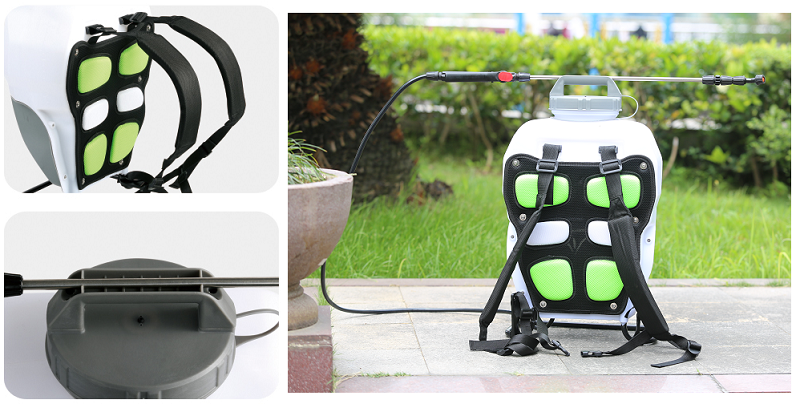 Features:
Product :
1. 21V replaceable Lithium battery pack, long working hours and convenient
2. Double-color back cushions for breathable comfort.
3. Using intelligent pressure switch type diaphragm pump, it has long service life and high efficiency.
4. Water-proof cover anti-off design, the spray bar can be fixed on the handle, and the handling is more convenient.
5. Equipped with a variety of nozzles for users to use.
Factory :
1) Build in 1978 , have more than 40 year product experience
2) CE/GS /CCC/BSCI/ISO9001/ISO14001 Certificate
3) 1300 well trained workers
4) 80000㎡ manage and orderly workshop
5) Have a R&D Department ,Good ability to develop new products
6) 24 Hours after sales service
---
Details
Model

SX-MDLi-15A

Capacity

15L/4gal

Pack Meas(CM)

363×252×622(mm)

Li-ion Cell

2Ah

4Ah(Charge display)

6Ah (Charge display)

Working Time

1.5h-2h

3.5h-4h

5h-6h

N.W.

5.2kg

5.4kg

5.6kg

Pump

Operating Voltage

18V

Work pressure

0.3-0.45(Mpa)

Charger

Input

AC100-240V~50/60Hz




Output

DC21V/1A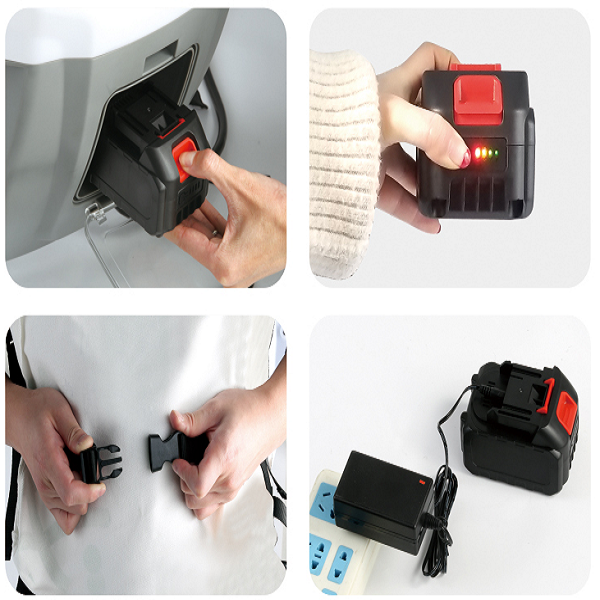 Company Information
Shixia Holding Co., Ltd., established in 1978, and the factory covers and area of 80000, square meters,with staff 1,000 peoples. There are 12 series of product ,more than 600 varieties of top good quality sprayer, 80% of products exported to Europe and America. We has become the most authoritative and leading sprayer manufacturing enterprise and government standard drafting unit of sprayer manufactory, At present, the company has passed ISO9000, ISO14000 system. The products of the our company are assessed as "national inspection-free products".
We sincerely welcome friends both domestic and abroad will visit and cooperate with us and create splendent future together!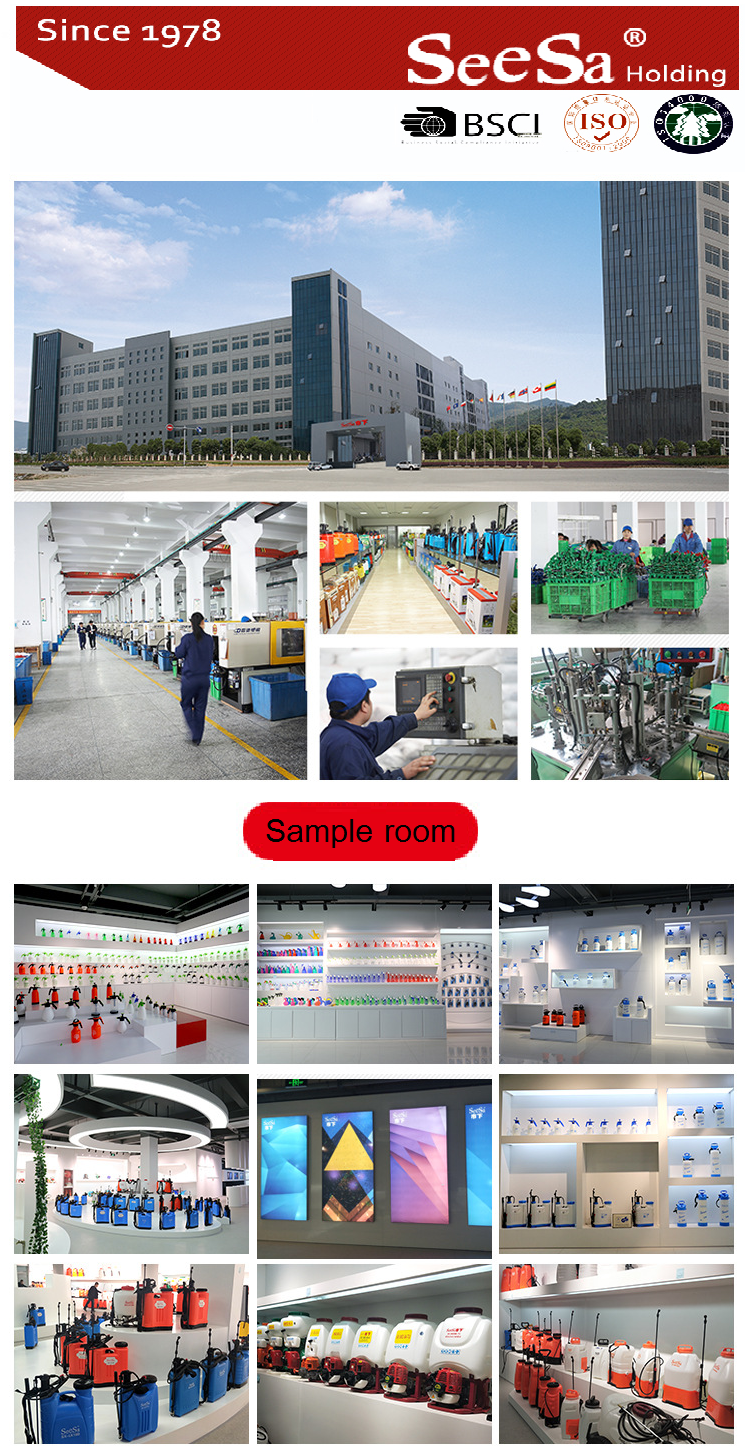 What Are The Advantages Of Our Company?
1. 41 years' Sprayers Manufacturing Experience
2. Assessed as "national inspection-free products
3. Covers and area of 80,000 square meters,with staff 1,300 peoples.
4. First Approved AAA standard of good conduct business
5. 4 kinds of them got high-tech product certificate,
6. 40 kinds of them gained national patents
7. 216 patents obtained
8. Harsh choice 28 global retail industry leader
---
Alina Chen
Sales Consultant
Email: alina@shixia.com
Mob/Wechat : +86 15824091173 Whatsapp : +86 15858809061
Facebook: facebook.com/Alinaseesa
TEL: +86-576-89181905 Fax: +86-576-89181886